Company
About Kisogawasenjyu Co., Ltd.
Company Management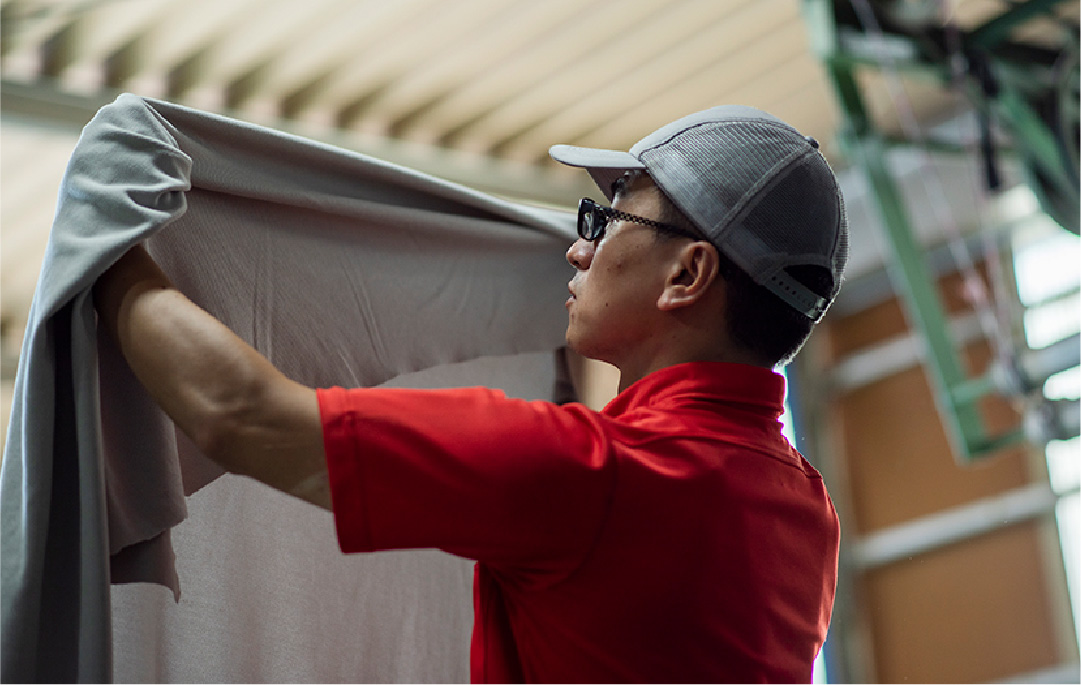 Our company's main business is dyeing and organizing fabrics, and as a small and dedicated team, we combine all of our technologies and creativity to create products that satisfy our customers. In addition, we think about what is necessary for the environment and people's happiness, innovate with flexibility, and contribute to the creation of a prosperous and comfortable society required by the times. On top of that, we value our sensibilities and strive every day to inspire our customers through design and fashion, aiming to be a one-of-a-kind company that will continue to operate 100 years from now.
1 Smile and inspiration
2 Environmental and human health
3 Peace of mind and comfort
4 Design sensibility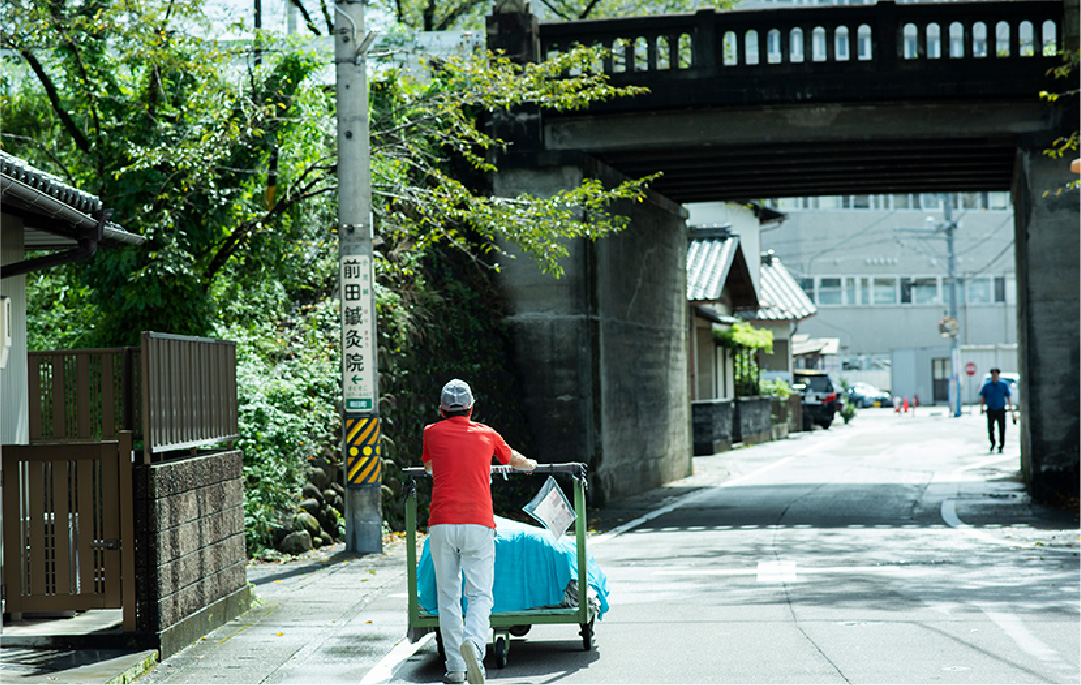 We provide customers with a sense of security and enjoyment through manufacturing that considers environmental sustainability. In addition, the purpose of our management activities is to pursue physical and mental well-being and growth of all employees.
We aim to make safe and secure products in consideration of environmental sustainability and effective use of resources.
We actively contribute to the development of the local community.
We do our best to smile and have empathy when interacting with customers.
We create an organizational environment where employees can set goals and increase their motivation for growth.
We utilize our welfare programs to guarantee the smiles and happiness of our employees.
We secure appropriate profits through proactive management based on sincerity.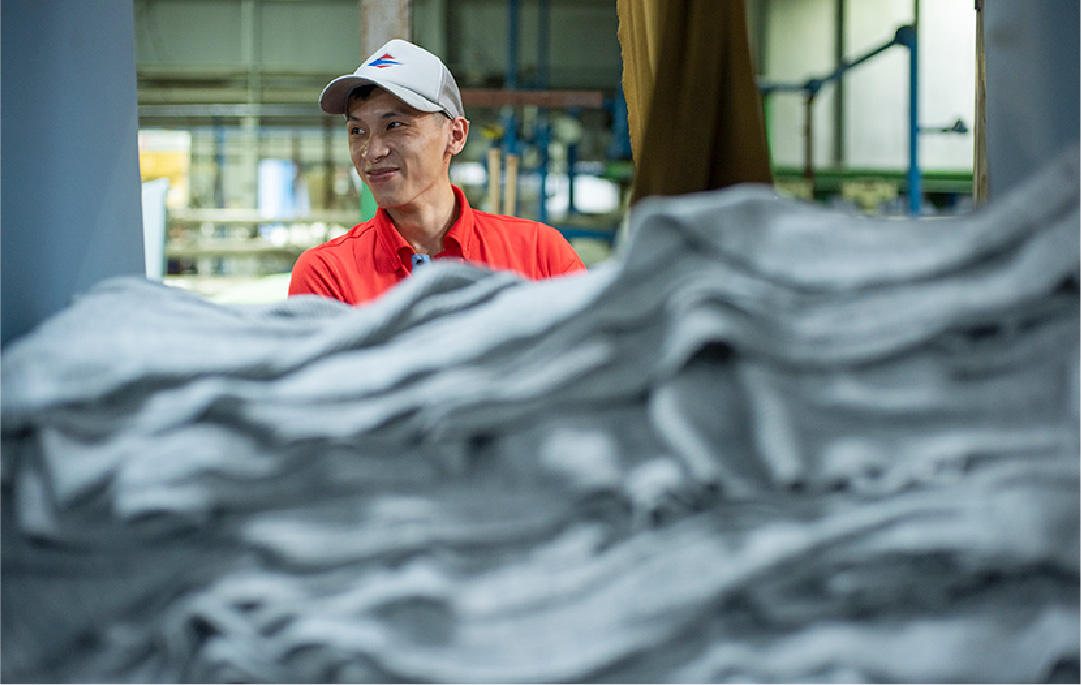 We pursue various technologies required in the modern era without being bound by a fixed concept.
We polish our stable responsiveness so that our customers can feel at ease.
We value courtesy and etiquette and strive to grow as a person with a feeling of gratitude.
We continue to be committed to achieving our vision.
We support our fellow challengers and cooperate so that we can grow together.
Company Slogun
For a happy daily life
This is Kisogawa Senjyu's motto to head to the future.
No matter how the world changes, we believe that smiles create physical and
mental well-being and lead to happiness for each individual,
for the people close to us, and for society.
Colors and textures that naturally make you smile lead to
comfort in your life and create a positive cycle.
Since our founding, we have been striving to create new value and
enrich our daily lives through our corporate activities.
We will continue to inspire our customers, employees, and everyone involved, "for a happy daily life."
We promise to continue to take on challenges through our materials so that
we can see the happiness of living with the community and
the natural environment and bring smiles to the future.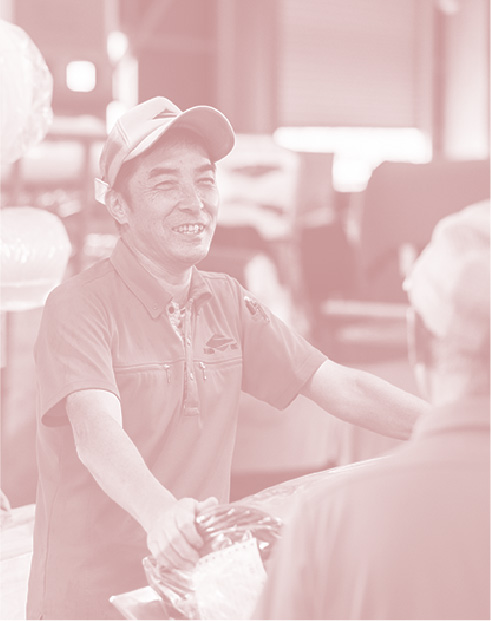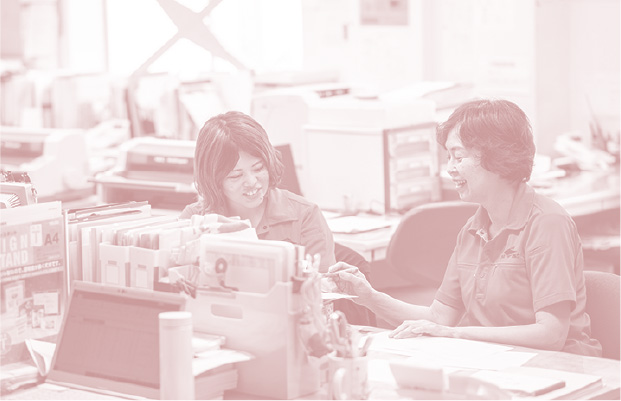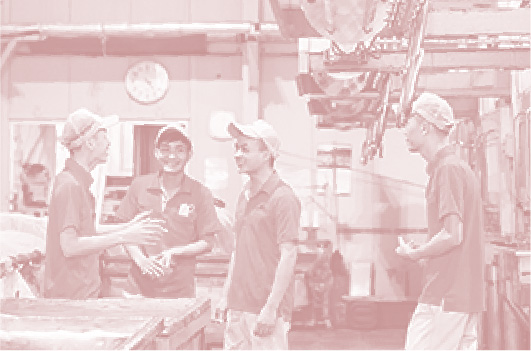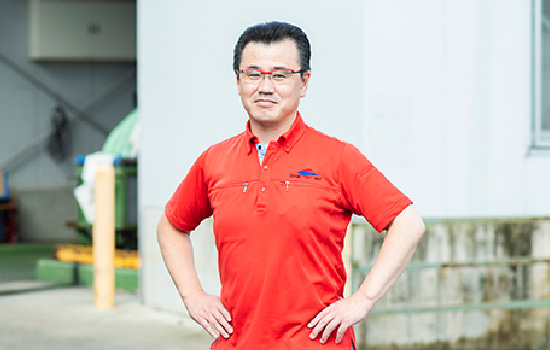 Kisogawasenjyu Co., Ltd.
CEO ATSUSHI ANDO
Company History
1950

Nuisuke Ando established and founded Kisogawa Senjyu in Nakaokuwa-cho, Gifu City. Mainly for dyeing and organizing textiles

1952

Temporarily closed due to a factory fire

1953

Purchased land and moved to 6 Asahimachi, Kasamatsu-cho, Hashima-gun(site of the current nap-raising factory)
Arrangement work centered on nap-raising textiles

1960

Worked on bleaching dyeing with 2 early wince machines and rearranging resin processing of raw scale

1962

Masami Ando was appointed as the second representative of Kisogawa Senjyu.

1963

Acquired factory site at 167, 168 (current Factory C) in Dendai, Kasamatsu- cho, Hashima-gun
Newly built factory, focusing on thread dyeing

1965

Two factories were added (A and B factories) in line with the land acquisition next to the C factory.

1975

Acquisition of land for Factories D and E

1980

Transition from thread dyeing to cloth dyeing

1985

Acquisition of land for head office

1988

Head office building was newly built

1995

Changed the company name from Kisogawa Senjyu to Ando.
Established Kisogawa Senjyu Co., Ltd. with capital of 15 million yen

2009

New construction of Factories A and B

2011

New construction of Factory D

2013

New construction of Factory E

2015

Atsushi Ando was appointed the third president of Kisogawa Senjyu Co., Ltd. .

2018

Merger with Ando. Total capital of 17.1 million yen.
Continuing to take on challenges with composite materials (three-way mixed, four- way mixed) centered on acrylic and ester materials
Company Information
Company Name

Kisogawa Senjyu Co., Ltd.

Location

185, Dendai, Kasamatsu-cho,
Hashima-gun, Gifu, 501-6062, Japan

Inquiries

+81-58-388-0361 [Hours: 9:00 to 17:00]

Founded

December 1950 [Establishment: December 1995]

Representative

Atsushi Ando, President and CEO

Capital

17.1 million yen

Employees

40 employees

Sales

603 million yen

Business Description

Dyeing and organizing of knitted fabrics